A Wife for Mr. Darcy
by Mary Lydon Simonsen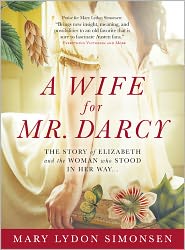 Genre: Romance / Regency / Jane Austen Retelling
Ages: 16 and up
I received a copy from the author in exchange for a fair and honest review.
Description:
A Gentleman should always render an apology...
When Mr. Darcy realizes he insulted Miss Elizabeth Bennet at the Meryton Assembly, he feels duty bound to seek her out and apologize...
When he has insulted a Lady.
But instead of meekly accepting his apology, Elizabeth stands up to him, and Darcy realizes with a shock that she is a very different type of lady than he is used to...
Darcy is more intrigued than he's ever been by any young lady, but he's already entangled in a courtship. It's a brutal predicament for a man of honor who only longs to follow his heart...
My Review:
I will never get tired of Mr. Darcy what-ifs. No matter how many I read, I am always delighted to get my hands on another one. A Wife for Mr. Darcy is an an original and lovely retelling where Darcy and Elizabeth fall in love very quickly, but Darcy's sense of honor keeps them apart.
Because Darcy and Elizabeth do not have all of the misunderstandings of the original Pride and Prejudice, they are more united than ever before. It was very interesting to read a story where they were not fighting against each other, but rather against circumstances. I loved this portrayal of Darcy. He loves Elizabeth but is practically engaged to Miss Montford, a pleasant but bland young woman. He will not hurt her by abandoning her, so how is he to get out of this predicament?
This a lovely romance. Sweet and simple, it focuses on Darcy's determination to be with the woman he loves, no matter how impossible it seems. I read it through in one sitting and I am pretty sure I was grinning the whole time. The waltz...sigh, I loved that scene. Any scene that has Darcy dancing is sure to make me smile, but that one in particular was beautiful. And the love letters, a little steamy at times, were so sweet.
The minor characters were fun and varying. I especially liked the Gardiners. They were just so cute and obviously in love even after many years of marriage. That is what a real marriage should look like and precisely how I imagine Darcy and Elizabeth behaving in their middle years. The Crenshaw children and the Fitzwilliam brothers were also highly entertaining, and I found myself liking Miss Letitia Montford more than I expected to.
I would highly recommend this book to lovers of romance, Jane Austen and good characters.
1 (mild) through 10 (extreme).

Profanity:
I rate it a 4.10 for some mild swearing and two worse words.
Sexuality:
I rate it a 7.10 for one descriptive wedding night and some references.
Violence:
I give it a 1.10 for brief references to violent events.
This review is part of a blog tour celebrating the release of
A Wife for Mr. Darcy
. To visit the other stops on this tour, go
here
. To read an interview with the wonderful Mary Simonsen and enter to win a copy of this book, go
here
.
Lieder Madchen