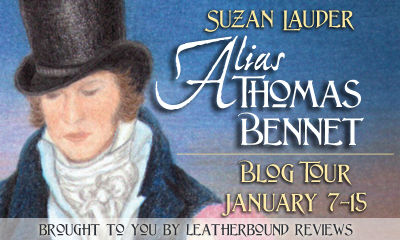 Both today and tomorrow, I am participating in the Alias Thomas Bennet blog tour, hosted by Jakki Leatherberry, so be sure to come back tomorrow to say hi to the author while she answers some of my questions and enter to win a copy of the book!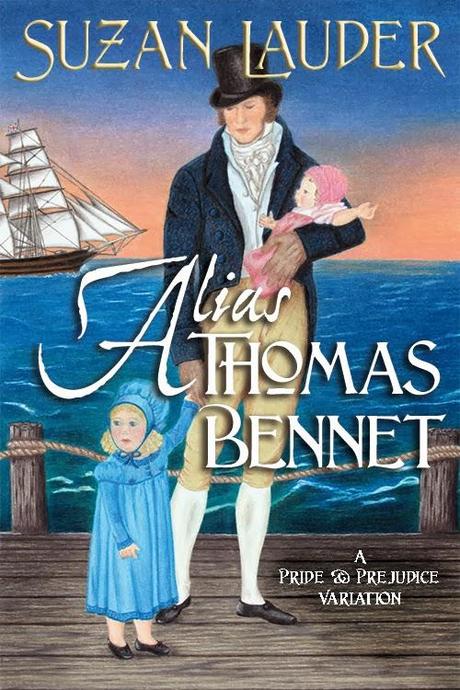 Alias Thomas Bennet
by Suzan Lauder
Genre:
Austenesque / Pride and Prejudice Variation / Historical / Romance / Mystery
Ages:
17 and up
I received an e-copy of this book as part of a blog tour in exchange for a fair and honest review.
Description:
. . . of most interest to Bennet was Mr. Darcy of Pemberley.
When Fitzwilliam Darcy attends the Meryton assembly, he befriends a quiet, intelligent gentleman. In frequent visits to his friend's home, he becomes acquainted with the Bennet family of Longbourn. Yet Mr. Darcy is distracted by a strange feeling of having met some of them before.
This is a different Bennet family from the cleverly crafted one in Jane Austen's Pride & Prejudice. This Mr. Bennet is a responsible gentleman who takes an active role in the education and upbringing of all five of his daughters, manages Longbourn to be prosperous, and displays loving guidance toward Mrs. Bennet-a gentle, caring mother and wife.
There is a mystery lurking at Longbourn-a secret unknown even to Elizabeth Bennet and Mr. Darcy is entangled in its extraordinary revelations.
Who is Thomas Bennet?
My Thoughts:
It took me a little while to get into this book, but once I did, I enjoyed it
.
It was wonderfully original, taking more than one fascinating turn. The writing style never truly clicked for me, but the story certainly did.
The book starts with interesting peeks into the background of certain important characters, one of them shockingly violent, before turning to Hertfordshire, where Netherfield is let at last. The rapid-fire POV switches and sudden changes in mood felt a little confusing and awkward to me at first, but I gradually got caught up in the mystery as the POV changes became less frequent and more natural.
This novel has some fascinating variations to the original P & P. The simplest of the what-ifs in this book is what if Mr. and Mrs. Bennet were a sensible couple in love with each other and caring towards all of there children. I loved this, particularly with views as to how the younger girls were different, and how Elizabeth was less hesitant to confide in her parents. The other twists you shall have to discover for yourselves, but I enjoyed them all, delighting in the sheer creativity of them even though a couple require a certain suspension of disbelief. I don't want to be too specific so as to avoid spoilers.
Mr. Bennet took center stage for most of the book and made for a surprisingly awesome main character. Darcy and Elizabeth had some pretty good moments as well, but the spotlight was all his. I enjoyed his deviousness, as well as the fact that he didn't particularly like being deceptive, even though he did it very well. The villains were less interesting, but they did turn the story in interesting directions, therefore putting the heroes in interesting situations.
Overall, I liked this book, the second half more than the first. It was interesting and entertaining, looking at Pride and Prejudice from a completely different angle.
Rating System: Profanity, Sexuality and Violence
1 (mild) through 10 (extreme). Ratings may contain spoilers.
Profanity:
I rate it a 3.10 for some very brief, mild swearing and a couple of uses completely justified mid-level name-calling.
Sexuality:
I give it a 7.10 for a couple of fairly descriptive scenes and a non-explicit yet still somewhat disturbing rape.
Violence:
I rate it a 6.10 for one scene of rape, an attempted rape, as well as attempted kidnapping and references to a duel.
Lieder Madchen