Endless Night
by Maureen A. Miller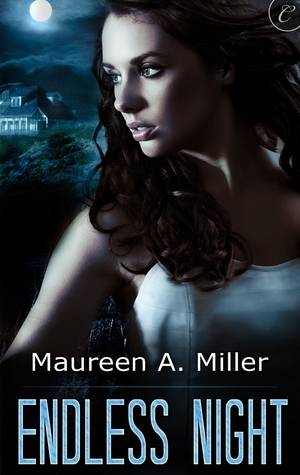 Genre: Mystery / Romance / Suspense / Contemporary
Ages: 16 and up
I received an advance e-book of this from
NetGalley
for review.
Amazon Description:
A woman hiding from her identity. A man trying to find his.
After witnessing a murder, Megan Summers ran until she reached the remote coastal village of Victory Cove. She has a new name, but she knows it's only a matter of time before the murderer catches up with her.
Jake Grogan has come to town to unravel the mystery of his heritage. Instead of finding his grandmother at Wakefield House, he discovers an attractive stranger who will do anything to get him off her doorstep. Trapped by a storm, he' s forced to stay the night with Megan—a woman who keeps a handgun under her bed and closes herself off from the outside world.
Jake tries to dig deeper into his past, but he's distracted by his fear for Megan's safety and his growing feelings for her. Danger is drawing near and he'll do anything to keep her safe. Will it be enough to help them survive the endless night?
My Review:
This book was rather predictable, but fun. Not fun as in laugh-out-loud fun, more as in the short-and-sweet romance kind of fun. This is the kind of book you read when you don't really want to think about anything and just relax into other people's problems. Not to mention their love lives.
The characters are nothing new, Jake is handsome and Megan is frightened but with a core of steel. After getting off to a bumpy start, their mutual attraction grows and turns into sexual tension, but the book is surprisingly clean. Things very nearly happen, but not quite, which I rather liked.
The threat of violence is ever-present in Endless Night, but when things come to a head it is not overly graphic and nasty. Though the plot is simple and the characters are nothing special, I enjoyed the story. If it was any longer I would probably call it a waste of time, but it is only a couple hundred pages and didn't take long to read. All in all, a decent novel.
1 (mild) through 10 (extreme).
Profanity:
I give this a 4.10 for some brief mid-level swearing.
Sexuality:
I give this a 5.10 for a couple of scenes that get to touching but nothing happens and multiple references and innuendos.
Violence:
This book gets a 5.10 for multiple murders and constant threats as well as one scene of fighting.
Lieder Madchen