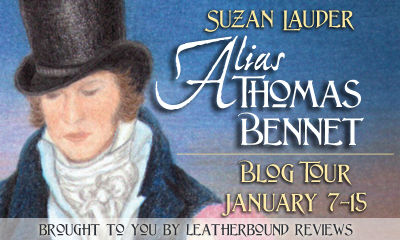 It is my great pleasure to have Suzan Lauder over today to answer a few questions and give away a few copies of her book, Alias Thomas Bennet. Please be sure to say hello and enter the Rafflecopter at the bottom of this post.
Dear Ms. Lauder, it is lovely to meet you. Thank you so very much for coming to call. Would you care for a cup of tea? Or coffee? How do you take it?
I'm a west coaster, so definitely coffee. Decaf Americano, extra shot, with milk to cool it down a bit.
Could you tell us a little bit about yourself? A few gossipy tidbits or perhaps a great scandal in your past?
I'm Canadian, which makes me darned interesting in the first place. I grew up on the prairies, where we drank vico. Men were men and women wore Sorels with their Canada Goose parkas—except dressed like that it was hard to tell them apart. In those days, my personal choice for winter activities was live blues venues, but now that I'm on Vancouver Island with its mild winters, it's more likely to be long walks along the ocean. I had the honour of eating prairie oysters with famous novelist Carol Shields (The Stone Diaries) because her husband, my then boss, was quite insistent we try them. You'll have to look some of those things up.
I've been to Vancouver Island a couple of times; I shall retroactively wave at you. You wouldn't happen to be a fan of German choirs, would you? Hmm...I did look up a couple of those things and, frankly, I am disturbed. This is very scandalous news, indeed!
I was very impressed by the originality of Alias Thomas Bennet, how did you come to think of putting such dramatic twists into the pasts of Mr. and Mrs. Bennet?
Austen leaves many of us with two feelings: a great deal of fondness for the characters, and a great deal of curiosity about what's left unsaid… and that's where fan fiction comes in. In the case of Alias Thomas Bennet, I had an interesting thought about what might have influenced the Bennet family members' irreverent behaviour to the point where it became a barrier in Darcy and Elizabeth's relationship: Mr. Bennet abandoned his family as a role model and partner. Austen (Elizabeth) says:
"that continual breach of conjugal obligation and decorum which, in exposing his wife to the contempt of her own children, was so highly reprehensible."
So the question became, if the negatives Darcy saw in the Bennet family were erased, what would
Pride and Prejudice
look like? It was a bit complicated thinking up a way to make Mr. Bennet change, but once I had figured that out, the story fell comfortably around it.
I also wondered what might have caused Mrs. Bennet to be so nervous and distractible. Of course, a new-and-improved Mr. Bennet can be a wonderful influence on a traumatized wife.
Do you have any favorite novels involving secret identities? It's always been a favorite subject of mine and one that attracted me to your novel in the first place.
Two of Michael Ondaatje's books,
The English Patient
and
In the Skin of a Lion
have some interesting identity subthemes. I read a lot of bodice rippers and occasionally the plot twist in one of those is a protagonist's realization of their connection to the peerage, and even if it's a bit cliché, it's quite a lot of fun to read.
Have you embarked on any further writing adventures since the completion of Alias Thomas Bennet?
I posted a new adult novel at JAFF website A Happy Assembly in 2012 that I'm preparing for submission to publishers. It's
Pride and Prejudice
set in the disco era. I'm also working on another
P&P
Regency what-if, where Elizabeth meets Georgiana at Ramsgate, and her first impressions of Darcy are Georgiana's glowing reports of an admired older brother. Of course, she also meets Wickham and Mrs. Younge while she's there. I'll be posting it as a serial at A Happy Assembly.
Those sound very interesting; disco P & P is just mind-boggling yet oddly amazing sounding at the same time and having Elizabeth and Georgiana become friends before anything else sounds like it has great potential for interesting situations.
If your Thomas Bennet was in a movie, would he be played by Donald Sutherland, Benjamin Whitrow or someone else entirely?
Actually, it would be Colin Firth! He's now in his 50s and a perfect age to play Elizabeth's parent. Of course, now you're dying to know the other leads! Simple. Jennifer Ehle as Fanny, Henry Cavill as Darcy, and Emma Watson as Elizabeth. All are age-appropriate and physically suited, and Cavill and Watson are at a good point in their careers to tackle a new
Pride and Prejudice.
Ooh, I like the way you think! I would love to see that movie.
And now, for something completely different:
How is the weather outside your window? It is quite wet and dreary from my perspective.
I think I see you across the street there! What's with the mask?
Ah! You've caught me! How did you know I have a mask? That's verging on creepy x-ray vision powers. *draws curtains, peering about in a paranoid fashion*
As a fashionable, creative lady, what is your opinion on feathers or flowers adorning hats? Which do you prefer?
It depends upon the occasion, of course. And the bird. We must not be cruel. But I do look well in hats.
Jason Bourne or James Bond, so far as gentlemen with secret identities are concerned?
I'm not familiar with either of these gentlemen in a literary sense, so I'm trying to think back to the actors who played them in movies. But truth be told, I'm even not sure I've ever seen a full installment of a movie for either of them. I think it has to be Bourne, just because I've seen Matt Damon in other stuff I've liked. Plus my feminist side allows only so much man-whoring and then it's icky, and that's what I frequently think of when Bond comes to mind.
Thanks for having me on your blog! It's been fun!
You are very welcome and it certainly has. :) I completely agree with you so far as Agent 007 is concerned, and you should really give the literary Bourne a try (that book is beyond awesome, not just for the secret identities). Thank you so much for coming and answering my questions!
**********
And now, for the giveaway! I've been authorized to give away one paperback copy of
Alias Thomas Benne
t as well as two e-copies, making three winners in all. This contest is international, so the best of luck to all of you! To read my review of
Alias Thomas Bennet
, go
here
.
Thank you to Ms. Lauder, Meryton Press and Ms. Leatherberry.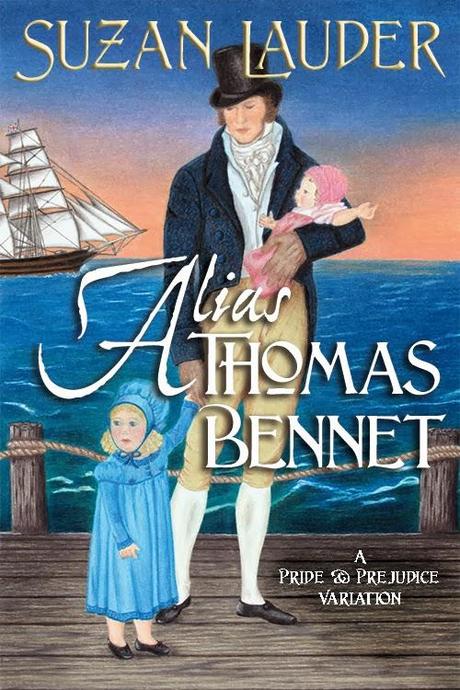 Description:
. . . of most interest to Bennet was Mr. Darcy of Pemberley.
When Fitzwilliam Darcy attends the Meryton assembly, he befriends a quiet, intelligent gentleman. In frequent visits to his friend's home, he becomes acquainted with the Bennet family of Longbourn. Yet Mr. Darcy is distracted by a strange feeling of having met some of them before.
This is a different Bennet family from the cleverly crafted one in Jane Austen's Pride & Prejudice. This Mr. Bennet is a responsible gentleman who takes an active role in the education and upbringing of all five of his daughters, manages Longbourn to be prosperous, and displays loving guidance toward Mrs. Bennet-a gentle, caring mother and wife.
There is a mystery lurking at Longbourn-a secret unknown even to Elizabeth Bennet and Mr. Darcy is entangled in its extraordinary revelations.
Who is Thomas Bennet?
This book contains one brief scene of non‑explicit sexual violence that may be concerning to sensitive readers. The sexual violence does not include Elizabeth Bennet.
a Rafflecopter giveaway