Ahoy! Welcome to the Sea Wolves Reading Circle. The Sea Wolves are a bunch of swashbuckling bloggers who will be sharing their favorite piratey books with you. Set sail with us and you will be sure to find all manner of piratical adventures.
To start, I would like to introduce you to the handsome and dashing
Captain Blood
!
Random Pirate Award: Best-Looking Pirate.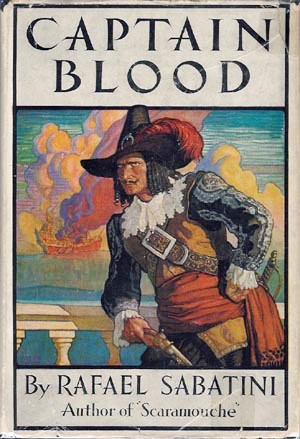 Now, who hasn't heard of this most famous of classical fictional pirates? Not that he ever intended to turn pirate, it just sort of happened. There he was, a doctor tending a patient, and then before he knows it he is sent to Jamaica as a slave. His rebellious spirit, however, cannot allow for such circumstances, and so in a daring escape he steals a ship and becomes one of the greatest buccaneers to sail the Seven Seas. Of course, where would such a man be without a lady? And that is where the beautiful, defiant Arabella Bishop comes in, and with all of their mutually professed hatred there is nothing to do but fall in love.
To add to the magnificence of this character, he is portrayed by Errol Flynn in the wonderful, cheesy old movie adaptation!
Captain Blood
by Rafael Sabatini can be downloaded for free from
Project Gutenberg
for your immediate enjoyment.
Random Pirate Award: Most Technologically Advanced Pirate.
Airborn
by Kenneth Oppel has it all. Steampunk, a red-headed lady, a supposedly uninhabited island and, above all, flying pirates!
Matt Cruse is a cabin boy on the airship Aurora. Born in the sky, he never wants to leave. Little did he no that this journey was going to be different. The peaceful trip is interrupted by the stubborn, rich Kate de Vries and her unfailing determination to drag Matt into trouble. Compared to her, the pirates almost seem tame.
Airborn is the first in a fantastic YA trilogy that I have read through at least three times and I will definitely be reading them again.
Random Pirate Award: Most Ticklish Pirate
Random Magic
by Sasha Soren is a delightfully insane tale with a couple of very piratey adventures.
When faced with quite probable death, the not-so ordinary Henry Witherspoon and the extraordinary Winnie Flapjack make some interesting discoveries as to the sensitivities of villainous pirates.
To see my full review, click
here
. Give this book a try, you won't regret it!
Random Pirate Award: Most French Pirate
Bloody Jack
Faber is a very different sort of girl. Having grown up on the streets, she is resourceful, unscrupulous and completely dishonest. Escaping London, she disguises herself as a boy and joins the navy. Before too long, she finds herself attracted to one of her fellow cabin boys, studying to be a midshipman and encountering (you guessed it!) pirates!
Random Pirate Award: Largest Number of Pirates
Inda
by Sherwood Smith is one of my favorite novels of all time. At first it may not look like a pirate novel, but I assure you, they are there. Inda is a prince, but not a particularly important one. He is filled with excitement when he is finally old enough to attend the Academy, where he will be trained in the art of war and how to be a proper Shield for his older brother. However, terrible things happen and Inda is exiled far away from his friends and family. Placed on a ship where no one knows his name, forced to make a new life for himself, he may prove himself to be more formidable than anyone suspected, especially when it comes to fighting pirates!
Inda
is the first in a series and the second book,
The Fox
, has even
more
pirates.
Random Pirate Award: Meanest Pirate
With a cover like this, do I even need to tell you that there are pirates? Not to mention time travel? But I bet you didn't guess that there are Nazis, did you? On the eve of WWII, young Nick McIver discovers an old sea chest containing a time machine and a plea for help from an ancestor that takes him to 1805 where he battles both a villainous pirate and the treacherous French! The sequel to
Nick of Time
is called
The Time Pirate
and has even more piratey adventures.
Random Pirate Award: Creepiest Pirate
Castaways of the Flying Dutchman
is the story of a mute boy with no name and no family who stows away on a ship to escape starvation and abuse. It is only later that he realizes what kind of ship he is on. A pirate ship. When the crazed Captain Vanderdecken curses heaven and is doomed to sail with his ghostly crew for all eternity, the boy, now named Ben, along with his faithful dog are sent out into the world as immortal wanderers, unable to ever cease their travels. This book has two marvelously piratical sequels:
The Angel's Command
and
Voyage of Slaves
.
Random Pirate Award: Most Misunderstood Pirate
Last but most certainly not least is my very favorite pirate novel of all time,
The Sea-Hawk
by Rafael Sabatini! Unfairly dwarfed by the more popular
Captain Blood
,
The Sea-Hawk
is a magnificent tale of love and betrayal, brothers and lovers, forgiveness and revenge. Sigh, I could probably go on about this book forever. Sir Oliver Tressilian is in love with the fair Rosamund, but there is no love lost between him and her brother, Peter. When Peter is killed (by Oliver's brother, no less) Oliver is the prime suspect. He will not allow anything to happen to his brother Lionel, so he determines to prove his innocence through evidence. However, just when he can accomplish this goal, he is kidnapped under orders from his brother and sold as a galley slave. When the ship he is held captive on is attacked by corsairs, he takes the chance to revenge himself upon his captors and so becomes the notorious pirate Sakr-el-Bahr, the Sea-Hawk. I love this book so much that I recommend that you follow this
link
directly and download a copy for yourself.
I hope your appetite for piratiness has been properly whetted, because there is more! Check out some chances to win pirate loot
here
!
Or set sail and find the next Sea Wolf!
Fair seas to you all, my fellow buccaneers!