Today is the release day of
Cobweb
Bride by Vera Nazarian! Very exciting, because this is such a lovely book (I will be saying that in a variety of ways in my review. Really, you have no idea.) and it makes me very happy to support lovely authors and share lovely books with lovely people (Such as Vera Nazarian,
Cobweb Bride
and yourselves).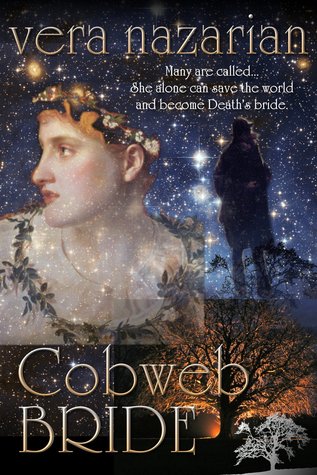 Cobweb Bride
by Vera Nazarian
Genre:
Fantasy
Ages:
14 and up
I received an advance e-galley through NetGalley in exchange for a fair and honest review.
You can find the official Cobweb Bride site
here
with more information and purchase links.
Description:
Many are called... She alone can save the world and become Death's bride.

COBWEB BRIDE
(Cobweb Bride Trilogy, Book One)
is a history-flavored fantasy novel with romantic elements of the Persephone myth, about Death's ultimatum to the world.
What if you killed someone and then fell in love with them?
In an
alternate Renaissance world
, somewhere in an imaginary "pocket" of Europe called the Kingdom of Lethe,
Death
comes, in the form of a grim Spaniard, to claim his
Bride
. Until she is found, in a single time-stopping moment
all dying stops
. There is no relief for the mortally wounded and the terminally ill....
Covered in white cobwebs of a thousand snow spiders she lies in the darkness... Her skin is cold as snow... Her eyes, frozen... Her gaze, fiercely alive...
While
kings
and
emperors
send expeditions to search for a suitable Bride for Death,
armies of the undead
wage an endless war... A
black knight
roams the forest at the command of his undead father...
Spies
and
political treacheries
abound at the imperial Silver Court....
Murdered lovers
find themselves locked in the realm of the living...
Look closer--through the cobweb filaments of her hair and along each strand shine stars...
And one small village girl,
Percy
--an unwanted, ungainly middle daughter--is faced with the responsibility of granting her
dying grandmother
the desperate release she needs.
As a result, Percy joins the crowds of other young women of the land in a desperate quest to Death's own mysterious holding in the deepest forests of the North...
And
everyone
is trying to stop her.
My Thoughts:
I read this book in one sitting, and was left speechless. I love Vera Nazarian's previous novels, but they pale in comparison to the utter perfection that is
Cobweb Bride
. It is quite simply one of the most beautifully written stories I have ever read.
The eerie descriptions paint a wintery world of shadow and breathless anticipation seemingly without effort. You know how in some books you find yourself skimming over the descriptions to get to the interesting part? Not in this book, you don't. The world is a living, breathing character.
In many ways, this story is a fairy-tale. A dark, shivery fairy-tale with an intensity that grabs hold and doesn't let go. I am having trouble describing the atmosphere, it is so different from other books. It is macabre and wondrous, beautiful and frightening, all at the same time.
I generally dislike books with multiple main characters and story-lines, but it didn't bother me for a moment in
Cobweb Bride
, so skillfully were they woven together. The murdered princess unable to die, the unappreciated daughter who finds purpose, the conflicted young knight...their unconnected lives suddenly inextricably bound together. I found it fascinating to watch everyone react to a world where people were suddenly unable to die. Wonder, horror, revulsion, fear, grief - everyone reacts differently.
The author does a wonderful job in explaining how important death is, in ways both obvious and unexpected. When suddenly no one and nothing dies, the world becomes, oddly enough, a scarier place. It is rare to find a fantasy novel of such depth.
I would recommend this book to pretty much everybody. I honestly can't think of a single complaint or flaw. This story can be enjoyed equally by men and women, teens and adults. It's the closest to a perfect book I've come across in a long time.
Rating System: Profanity, Sexuality and Violence
1 (mild) through 10 (extreme).
Profanity:
I rate it a 4.10 for some mid-level swearing and name-calling.
Sexuality:
I give it a 2.10 for some innuendos and mild references.
Violence:
I rate it a 7.10 for murder, battle and some descriptive gore.
Lieder Madchen